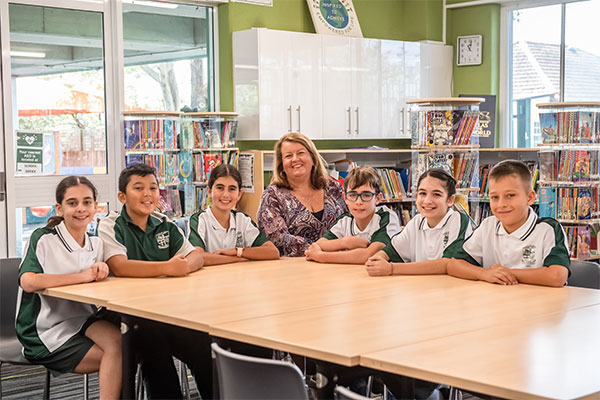 Welcome!
St Bernard's Catholic Primary School Botany is a diverse and close-knit community serving the parish of Botany, within the Eastern Region of the Archdiocese of Sydney. Founded by the Daughters of Our Lady of the Sacred Heart in 1855, their charism, along with the life of St Bernard, inspires our school vision; that all in our community are United in Faith, Inspired to Achieve and Empowered for life. Each day we pray, 'May the Sacred Heart of Jesus be everywhere loved' and we strive to live this out by showing unconditional love to others.
As the principal, this means that I am committed to leading a strong, faith-filled community of students, staff and parents in which all know that they belong and are valued. Therefore, our staff focus on getting to know each child and their family, so the instruction and learning experiences provided are relevant and meaningful, ensuring learning growth for all. Teachers set high expectations for the development of positive behaviours for learning and life for all students, so they become capable and confident to make a positive difference in the world.
Of particular importance is the place of parents who are encouraged to have an active role in their child's education and in the life of the school and parish. Mutual respect and cooperation between home and school are recognised as essential to school life and in enhancing learning for the students.
Thank you for taking the time to browse our school website. If you would like to find out more about St Bernard's Catholic Primary School, feel free to contact us. I invite you to visit our school to see everything we have to offer.
Best wishes,
Kelly Bouris
Principal
Proudly Part of the Community of Sydney Catholic Schools
Our school is part of a system of over 150 low-fee Catholic schools in the Sydney Archdiocese.
Sydney Catholic Schools are thriving Catholic communities that ignite a love of Christ through excellent teaching and learning to empower students to reach their full potential.