As part of Sydney Catholic Schools, we employ highly qualified and competent teachers who are accredited by the NSW Education Standards Authority (NESA). To continuously improve our practice, teachers also work towards the Australian Professional Standards for Teachers, from proficient teacher to lead teacher level.
The delivery of quality curriculum, pedagogy (teaching methods) and assessment is ensured by our system of schools through the provision of contemporary NESA accredited professional learning in a range of modes. Our Centres of Excellence offer online learning and external face-to-face courses, and timely, collaborative and relevant in-situ learning take place within the context of each classroom. Sydney Catholic Schools' teachers are strongly committed to their ongoing learning, with many having completed, or are currently undertaking, postgraduate studies in areas related to curriculum, student wellbeing, special education, theology, pastoral care and leadership.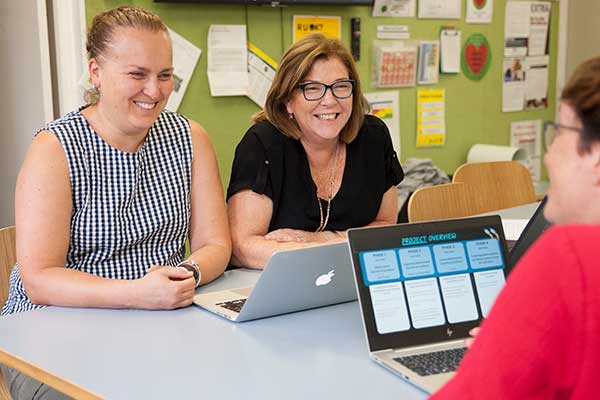 Professional learning is an essential component of each staff member's role at St Bernard's Catholic Primary School Botany. At our school, professional learning is strategically planned to build the capacity of staff members and also to support the achievement of goals in the School's Annual Improvement Plan, with the wellbeing and needs of each staff member in mind.
The professional learning takes a variety of forms:
Collaborative professional learning and planning occurs on a fortnightly basis and involves teachers working in teams with school leaders to analyse student assessment data and plan learning according to student needs and the demands of the curriculum. This process also supports co-teaching models whereby teachers can collectively problem solve to support students and also provide feedback to improve the teaching practices of each other.
Staff meetings occur weekly and a staff development day takes place each term. These focus on building shared understandings across the staff. The content of these meetings addresses the goals in the school annual improvement plan. These times are spent engaging with current research and evidence-based approaches to teaching and learning and relating these to our school context.
Our staff are highly dedicated and choose to pursue their own personalised learning. All staff are supported in this, whether it is tertiary study and external courses or more informal, in the form of learning from colleagues through classroom visits.